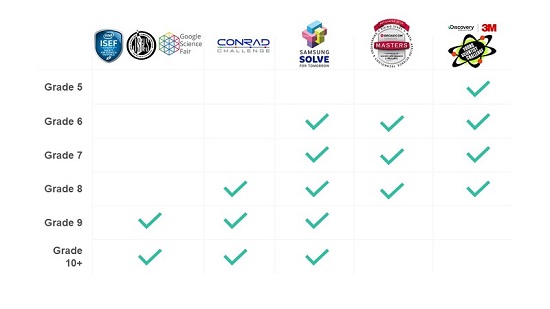 Top Stem Competitions for Young Students
Stem Competitions are a great way for young students to explore their academic interests and be inspired to solve challenging problems. It's never too early or late to tackle scientific or engineering-related issues — there are contests for people as young as 5th grade and as late as senior year of high school. Read on to see which ones you can partake in. Includes information on qualifications, requirements, subjects, and prizes!
Grades 9+: Intel ISEF, JSHS, Google Science Fair Grades 8+: Conrad Challenge Grades 6+: Samsung Solve for Tomorrow Grades 6-8: Broadcom Masters Grades 5-8: 3M Young Scientists Challenge
Intel ISEF 2018 Winner
Oliver Nicholls, 19, of Sydney, Australia was awarded first place for designing and building a prototype of an autonomous robotic window cleaner for commercial buildings at this year's Intel International Science and Engineering Fair, a program of Society for Science & the Public and the world's largest international pre-college science competition. The competition featured nearly 1,800 young scientists selected from 420 affiliate fairs in 81 countries, regions, and territories.
In essence, a flying drone-like device is tethered to the roof of a building and equipped with a powerful spray nozzle and rotating scrubbers. The $2,300 device can withstand 28 mph winds and could replace traditional methods that can exceed $11,000 per cleaning and reduce injuries in this high-risk occupation. Nicholls received the Gordon E. Moore Award of $75,000, named in honor of the Intel co-founder and fellow scientist.
The innovation was built based on Arduino.
3M Young Scientist Challenge Winner
On Tuesday, October 17th Gitanjali Rao became America's Top Young Scientist by winning the 2017 3M Young Scientist Challenge. Gitanjali is working to develop Tethys, a sensor-based device that can detect lead in water faster than other current techniques.
Rather than using expensive equipment for testing, Gitanjali's cost-effective approach to water safety uses a mobile app that populates the water's status almost immediately. Tethys is designed to be portable and easy to use, allowing individuals to test water safety whenever needed. She hopes to solve the water contamination crisis and decrease long-term health effects from lead exposure.
A seventh-grader at STEM School and Academy, Gitanjali competed alongside nine other finalists during a live competition at the 3M Innovation Center in St. Paul, Minn. She was awarded the title of "America's Top Young Scientist" as well as a $25,000 prize.
This innovation is also built based on Arduio.